The Journey Starts Here for you if are thinking of owning, working on boats or Jet Ski's this is the place for you. I'm a firm believer in nothing ventured nothing gained. This is where it all started for me. Transforming things to their former state to the same or better. If you want to jump right in take a look at the blog or tech Tech Tuesdays.
Discover the possibilities
I've ventured a lot in the past. Only time will tell if my investments of time and money amount to something worthwhile. I grew up in the '70s where everything you had needed to be taken care of, very few things were disposable (Batteries). The Journey Starts Here and you need to be able to look at possible the project being undertaken and the possibilities. It's sometimes hard to see, but as you start your perspective may change. I know mine has. The Sea Ray turned out better than I can ever have anticipated. It has better features than when it rolled off the factory floor.
There were TV repair shops, three channels of TV, no cable TV, and Saturday Morning Cartoons. It was a totally different world. All the stuff we have now was or is broken and was deemed not worth fixing. I like to fix things, so this is right up my alley. In my world, almost everything is not disposable. I'll fix it to save it or get the knowledge of how to. secondly, there is an economic principle behind this. Additionally, It's only worth fixing if the price to buy it, the parts involved, and the market value all yield equity. Lastly, keep in mind I am not taking into account my time. If this ever turns out to be a business, I will need to.
The Journey Starts Here – Where it actually all started
The Journey starts with two ATV's. A 2007 Brute force 750 and a 2000 Honda TRX 450. Keep in mind there were a few things that I thought were simple, which in reality were not. Additionally, I will do a flashback Friday, to discuss what was wrong and what needed to be fixed.
Everything gets supersized (Keeping Nothing Simple) – Ravisizing
So for the two ATV's, I bought a twenty-six-foot enclosed car hauler trailer. Besides that, we have used it a total of one time for its intended purpose. Not to mention up to this point I never even towed with my truck, let alone backed the thing up. Trailers take up a lot of room.
If you have heard of the KISS principle, for me it only applies to troubleshooting and sometimes that is a fail. Additionally, This is what my wife calls my overcomplication of anything that should be simple. Lastly, she refers to it as "Ravisizing" everything.
I can take for example us wanting a simply used pull behind travel camper and me turning that into a forty-six-foot tag axle diesel tag axle pusher with triple slides. That is actually how we ended up at the lake and not owning a depreciating RV. She also pointed out I don't like a lot of noise pollution around me. I'm extremely sensitive to noises. It was entirely based on a trip to the buffalo river on the fourth of July 2016. It's funny that this Journey started with an RV, then a fixer-upper that was overpriced to this place that just needs a new owner and a boat slip.
Five years later, Four Boats, Five Sea Doo's, and a UTV later we are at the point of working on a bigger boat. Three of them are SeaWorthy and the 1999 Yamaha LS200 will be the next project after the Sea Ray. "The Nauti Oar" is a Project herself, she is a lot of boat!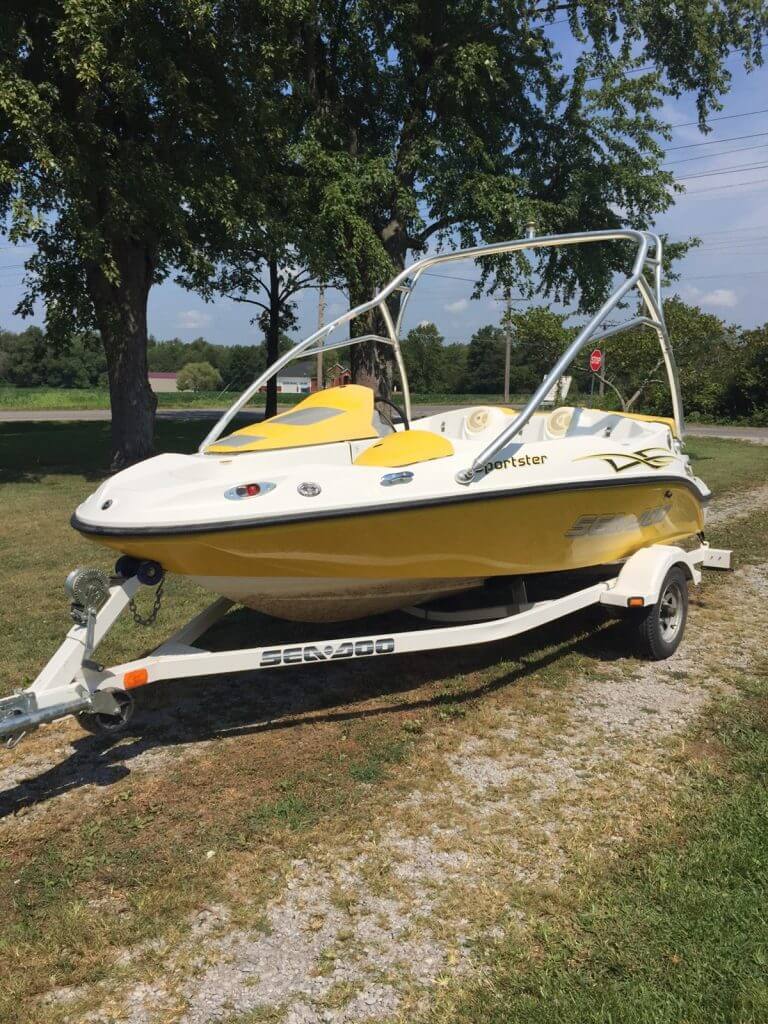 Our Boats collection started small
So with a house at the lake, you have to have water toys right? Initially, I tried to Ravisize the boat too. We were trying to buy a 2002 Sea Ray 280. The survey came back bad and my wife decided we should start small. She also felt we could get a bargain if we could find a small boat that I could try and fix. This will eventually end up in a 40-foot boat someday. The Sea Ray will be the runabout for now. It will take the place of the Sportster 155 that I need to sell. Additionally, That boat was the start of the Journey into boat and Sea-Doo Repair
These are our boats. The yellow one works, after being fixed. My wife thought it would take me half a year to get the 2006 Sea-Doo Sportster 155 working. I've carved out this section of the internet for those of you who want to work on boats. This is our space to document how I repair these boats. It's how I go through the process of Purchasing and fixing these broken water toys. I called this the Journey because I never know where I'm going to end up in the end.
The Journey Starts Here – Were to Start
We will document the process of how I step through the troubleshooting and the tools required to get these back running. I tend to work nights and weekends on my projects. Understand that time is also part of the overall investment in me. There are points in many of my projects when I get completely overwhelmed.
Don't give up, it's part of the adventure
Keep in mind, that many times I have to step back breathe, and realize I'm doing is difficult, but not impossible. My 1st engine rebuild was my 2005 Sea-Doo RXT (Oscar). It required learning new things. Which are not always easily understood by me. I'm a visual learner, and I make a bunch of mistakes. I'll try and point those out. Learning is the process of making mistakes. So don't be too critical of your failures, you are learning. Learning is the process of making mistakes and making changes to get a different outcome. Insanity is changing nothing and expecting a different outcome. The reason for doing this is to help people who need a source for this information. I hope this provides that! So, this is the enforcement of "do..or do not, there is no try".
Tech Tuesdays, use it !
There is a section called "Tech Tuesday Tips", this is going to be a section on what may or may not fall into a particular category. Reach out to me if you have questions about doing something, or if there is something you need help with. I'll either video it or do an article/blog. I'm here to help. It's not all about boats and Jet Ski's? So take a look around and hopefully this will all be helpful information.