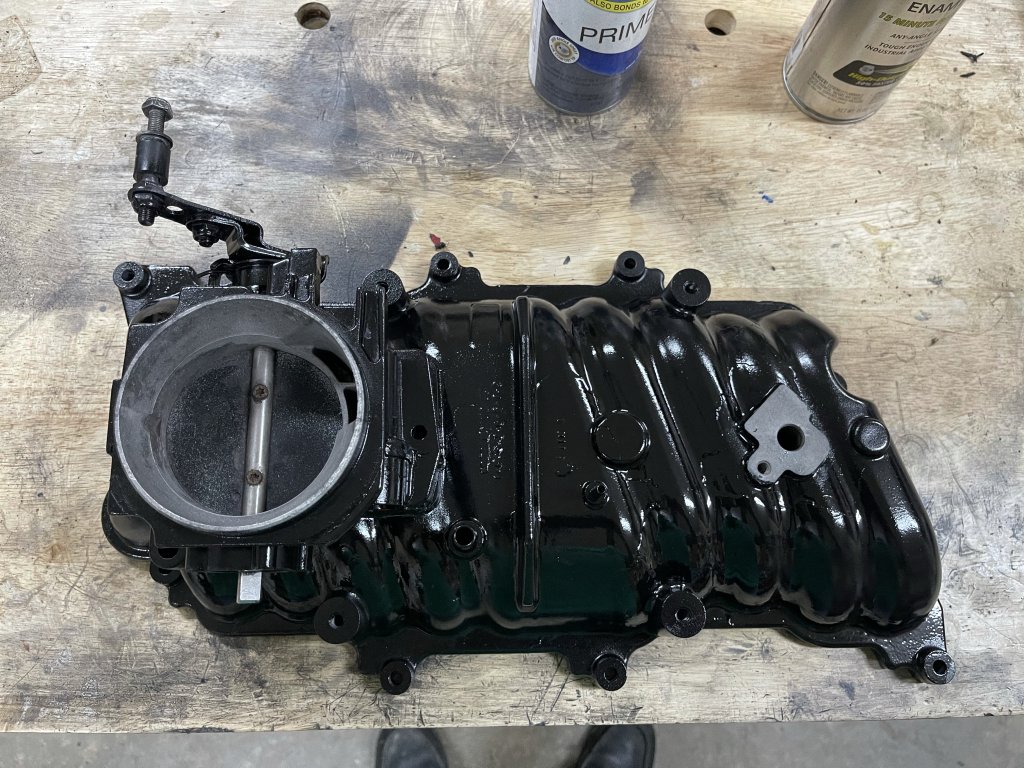 Upper Intake Manifold
So, with the cylinder heads at the shop. I took some time to clean up the upper intake manifold. First, the paint was peeling from the cast aluminum on the upper intake and the throttle body. So I spent a little quality time with the sand blasting cabinet with aluminum oxide.
This is a cheap Harbor Freight Cabinet, I will need to modify it if I keep using it. It been one of those tools that takes up a bunch of space but is rarely used. Apparently, much like my parts cleaner. It cleaned up nicely, but took a while. Now it's Primer and painted. There was remnants of some of the old paint so I'll paint over it.. Secondly, my compressor can't keep up and provide constant pressure so I got what I got. I ordered injectors and a few other parts to start putting this back together. Maybe this cabinet needs to head to the lake ? Additionally, to see how we got to this point take a look here.
Where is the lower intake?
Now you might ask where the lower intake is? Well that went to my engine guy Steve to inspect and clean along with the cylinder heads. As a engine builder and machine shop, he has all the tools, including a large blasting cabinet. He used plastic blast media to clean the lower intake. It did a phenomenal Job. It not as abrasive as the aluminum oxide and leaves a nice luster of a finish unlike the aluminum oxide which leaves a dull finish. Secondly, it's necessary for those pieces that are delicate. Like Pistons, Cams, and Crankshafts.
So what are we going to do next?
With the upper intake cleaned up and the Cylinder heads at the shop we are going to get the cylinder deck ready for re installation of the cylinder heads. This mean cleaning the decking, bolt holes, rocker arms and push rods. It also means I need to clean up the exhaust manifolds and risers.
There is a lot to be desired with the condition of the exhaust system and the captains call. There is a flapper that needs to be replaced. Additionally, as alluded to the electrical is a hot damn mess. I started to remove all the wiring to the radio and what ever was left.
I want to be careful about what I'm doing in parallel. If I mess up what is currently operational with the engine starting. Lastly, I could be chasing self inflected problems that will consume tremendous time. On to cleaning the exhaust manifolds and risers.