So we had a chance to look at a 1985 Harbor Master. This is all about me starting to venture out of my comfort zone, and help others with with a positive boating experience. Additionally, this presents us with an amazing opportunity for an adventure. A friend found a good deal on a forty seven foot 1985 Harbor Master. Initially, from the pictures it's an older boat but may a great bargain. Only a physical inspection is going to tell us more. As they say, a pictures are worth a thousand words but in this case we need to go look at the prospective boat. I would strongly suggest go looking at a boat, even if it's a good or great price.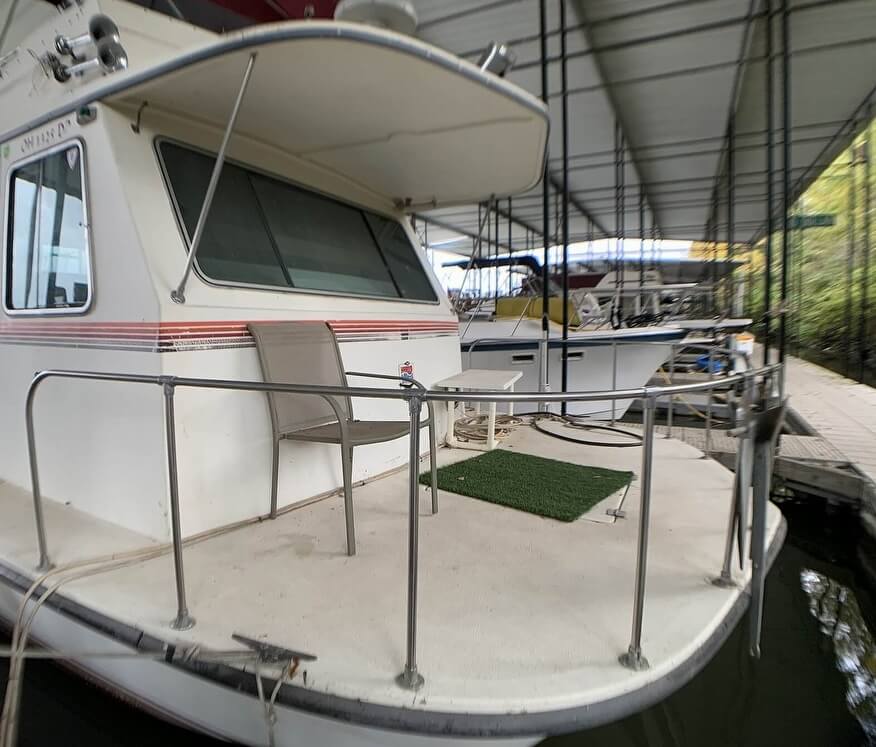 1985 Harbor Master – The Subject
So to start this is forty seven foot 1985 Harbor Master. This model in particular is a HARBOR-MASTER 47-IB. It's has two Crusader 350 XL's and a Westerbeek generator. The idea behind the trip with our friends is to ensure that this boat is sea worthy and at the right price. As with any boat that is almost forty years old there are going to likely be some issue. Firstly, I'm a big proponent of a marine survey on a boat. There is a lot that can be inspected if the boat is out of the water. There is much less that can be done if its still in the water. In our case, with the demand for everything, including boats going through the roof. We decided to do some preliminary assessment before our friends made an offer or even waited for an marine survey.
On late Thursday afternoon, we head on a road trip to take a look at the prospective boat with the Wife and our two dogs. The hope is that the bones of this boat are in good shape. If the structure is good shape, then most every things else can be addressed in one way shape an form. It has low hours for it's age, and it's a decent price, if there are no major issues. As a result of the pandemic there were and are factors driving up the prices as with most everything. There are very few boats new or used on the market and they are garnering a premium price. Additionally, if you're looking for a boat understand that they tend to stay on the market for a very short time. Don't allow this to drive a decision, ever!
1985 Harbor Master – The Details
First impressions from the outside the boat she shows her age. Keep in mind this is a thirty six year old boat. It's been sitting a while and needs a good cleaning. The current owner is from out of town and made arrangement's to meet us. As we board her and enter the salon. It's apparent the salon is period correct. Not a big fan of the eighties décor. What we really want to see is the superstructure and the bilge. More importantly, the interior will be addressed if the structure and mechanicals are in good condition.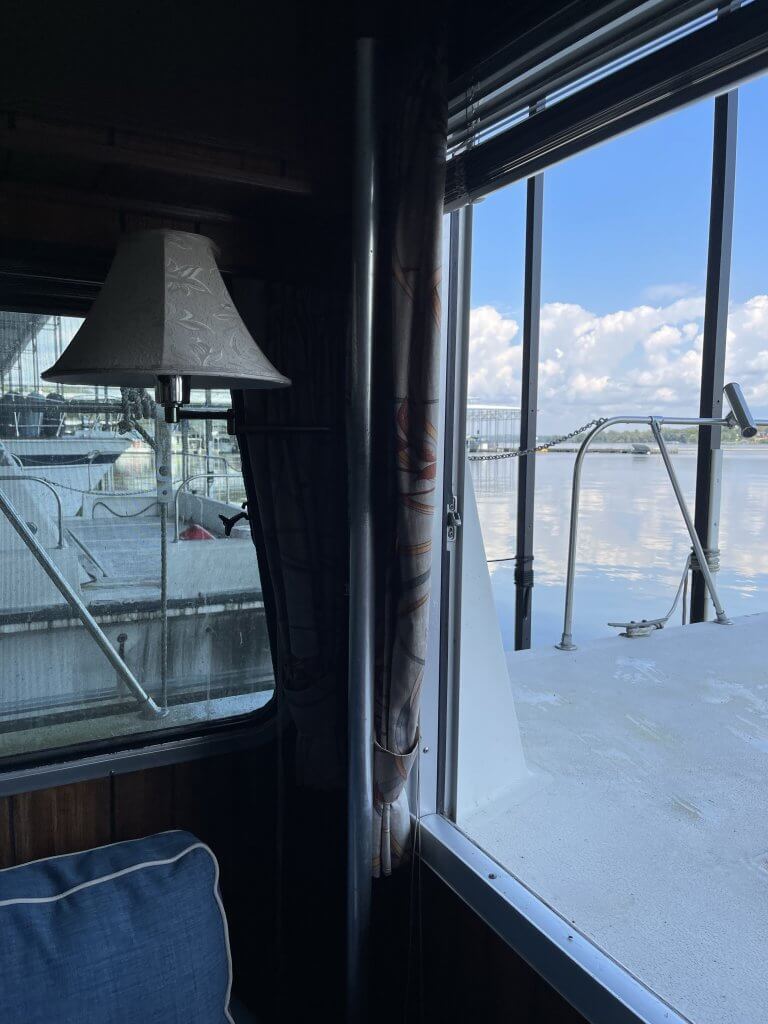 As for some of the other detail the prospective owner saw that was a concern , were the roof top air conditioners. I see these predominantly on house boats, they want Marine Air , not these. Not a deal killer, but costly to retrofit.
1985 Harbor Master – Salon, Engine Room & Bilge
As we pass trough the salon to the aft deck. Something odd caught my attention. In the corner was this oar propping up the ceiling. It was odd to say the least. It was on both sides of the couch that was there. So I ask a question about it an got its a oar. Its how he stored them. I probed no further, but I would suspect that there is some sort of issue with the ceiling. So we go though the rear window to the Aft Deck
Engine Room & Bilge
So we go onto the aft deck, where I lift up the engine hatch. What I find here is standing water in the bilge. I a make a remark about why is there water in the bilge. The owner makes some comment about how it rains and water gets in the bilge. If you look carefully look at the engine room hatch. There is a lip, missing a seal? Additionally, this is covered boat slip. So I'm hard pressed to understand how there is water in the bilge. Keep in mind a little water is fine, but there was enough standing water that the bilge pump should have run automatically. The owner flips the switch and the water starts to drain. Clearly, the automatic bilge pump is not functional and only operates manually. Never allow this to be the case. Replace the bilge pump immediately.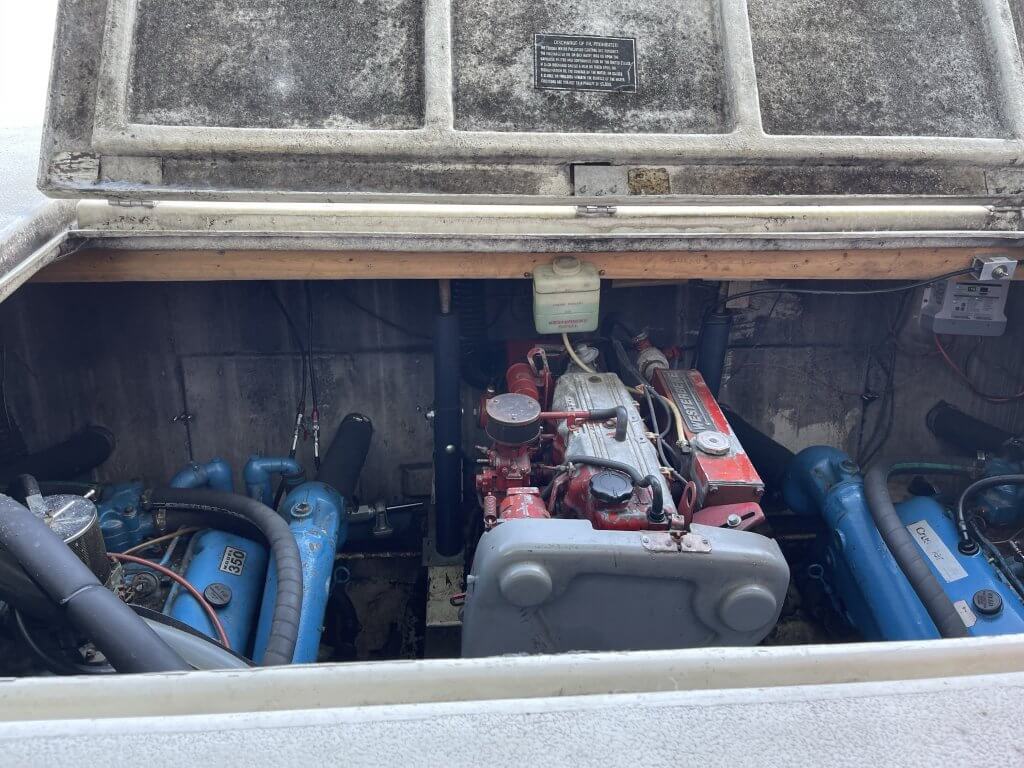 What you can see from this picture is a clear indication that you should go no further. Structurally, there are two jacks holding up the rear deck. On top of that there is a standard 2×4 holding the rear deck up. I would suspect that this is the case through the rest of the boat. This is not an easy fix. With the oars and this I would assume some structural issues exist. You will also notice the discoloration of the white gelcoat. I would assume there has been enough humidity to turn this black. Its probably a combination of dirt and mold. A clean engine room is indication of care, This looks the opposite of that.
Port and Starboard Engines
So here is a closer look at the engines. and the supporting superstructure. You will notice the Generator is being supported by a one by two, non marine grade wood. The foundation jacks are on both sides of the generator. At this point there are enough issues to stop the prospective buyer from proceeding with a survey. She needs an owner that can take care of her. Additionally, what I will say is this boat can only be fixed with time and money. The Prospective owners want to just do cosmetics. Not Structural, Mechanical and system related. Lastly, we also found a bunch of weights for ballast. I find that very odd too.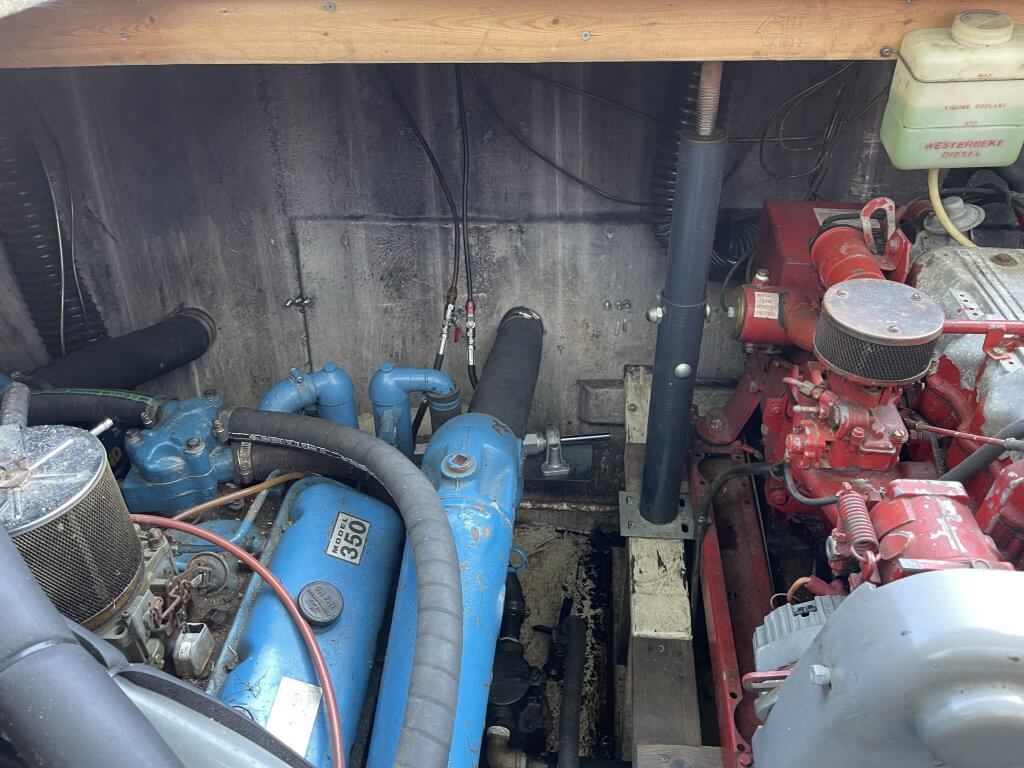 Harbor Master – Conclusion
What I will say is we had an enjoyable weekend overall. Unfortunately. the condition of this boat made it difficult to proceed any further. A survey would have been a waste of time and money. We didn't even start the boat up We were courteous and dismissed ourselves from proceeding any further. I hope someone saves her. It just can't be the prospective buyers or me.
What I can say is the Survey condition on "Nauti" was above average. As in most cases with a used boat there are outstanding issues. Nauti had a few of them. A survey is not a guarantee that everything will be fine, but it s a good step in the right direction. Regardless, you have to start with good bones (The Hull & Stringers). We have that in "Nauti". Unfortunately this one we looked at did not. What I will say is with "Piperella", we took a gamble and we got lucky. Piperealla, was a fifth to a sixth of what an average price of 2007 Sea Ray 210 Select.
So back to our winter projects on Nauti! We are still looking for our next Mid sized deck boat project. So far nothing has cropped up on our radar!