So we just took ownership of our 2000 Silverton 352 MY (Motor Yacht). She needs a bit of TLC! She is 21 years old and has had three owners excluding us. They say the happiest days of a boat owner's life are the day they buy their boat and the day they sell it. So let's try and shift this paradigm.
Prior to embarking on this chapter, I signed up for the Silverton Owners Club. There is some great information here. Silverton is no longer in business and I wanted to be sure there was some sort of support forum out there. Additionally, I'm versed in working on MerCruiser since I worked on the Sea Ray 210 Select. We already know she has a few key items to address:
Engines need and oil change
Water separating fuel filters need replacement
Transmissions need an oil and filter change
Generator needs a maintenance kit and oil change
Rear shower sump is bad and needs fixing or replacement
The Depth Finder acts odd and sometimes only shows 10.8 feet
The hot water heater does not work and needs an element or replacement Port instrument gauge is interment
The Nissan 5HP engine for the Zodiac Dingy wont go into neutral (Need this for the dogs)
The Nauti Oar (2000 Silverton 352 MY)
These are the subsystems of the boat and what we need to address as a result of the survey
The Nauti Oar (2000 Silverton 352 MY Engines)
We started the process of acquiring our 2000 Silverton 352 MY at the end of May. The whole process of this has taken away from Piperella the Sea Ray 210 Select It's July 2021 and the maintenance records show she hasn't had an oil change in about three years. She was bought in October of 2020 by the current owners and we just bought her. More importantly, since the last recorded maintenance, she has had about 1100 hours put on her. A majority of these hours were all below 1500 RPM. She did the loop, and at around 10 MPH. I would suspect that there has been an oil change since then, but we know the oil and fuel filters haven't been changed. Additionally, The same person who we suspect worked on our Sea Ray (Piperella) has done the prior maintenance on this boat.
As a result of the extended maintenance, we did an oil analysis, compression test, blow-by, and leak down tests. The Compression test all shows above 160. less than one percent on the blow-by. Not bad for an engine with 1600 plus hours. So, all appears to be good with the condition of the engines for their age. These are the MerCruiser 454 engines and not the Crusader 454.
Additionally, that 454's are the MerCruiser 7.4 MPI type of engines. They are anemic in horsepower but are huge in size and have decent torque. They are a legacy engine. There is a lot of controversy about how many hours are too many hours on an engine. So on average, 100 hours on a boat is about Usually is about 12,000 Automotive Miles. In our case, she has about 192,000 on these engines! These should be fine!
The Nauti Oar Below Limit (2000 Silverton 352 MY
So we also know in limited to around 3100 RPM. In our inspection, we found the wrong plugs in her. They are not for this engine. They are colder and shorter than the plugs that should be in her. So we will be doing an oil change and plugs on both engines.
The Nauti Oar (Generator Round One)
So when we first looked at her the generator had an issue of hunting and then eventually stopped for the current owners. Secondly, we wanted the generator fixed, regardless of the engines. The Generator wouldn't start for the current owners on Memorial day weekend. It turns over but does not start. Keep in mind that this is a gas generator with a carburetor. This was a negative in my opinion. At least, it has an electric fuel pump! This is a Kohler 7.3E with a sound shield. It's in the bilge next to the Macerator, Water Pumps, Water tanks, and Hot Water Heater.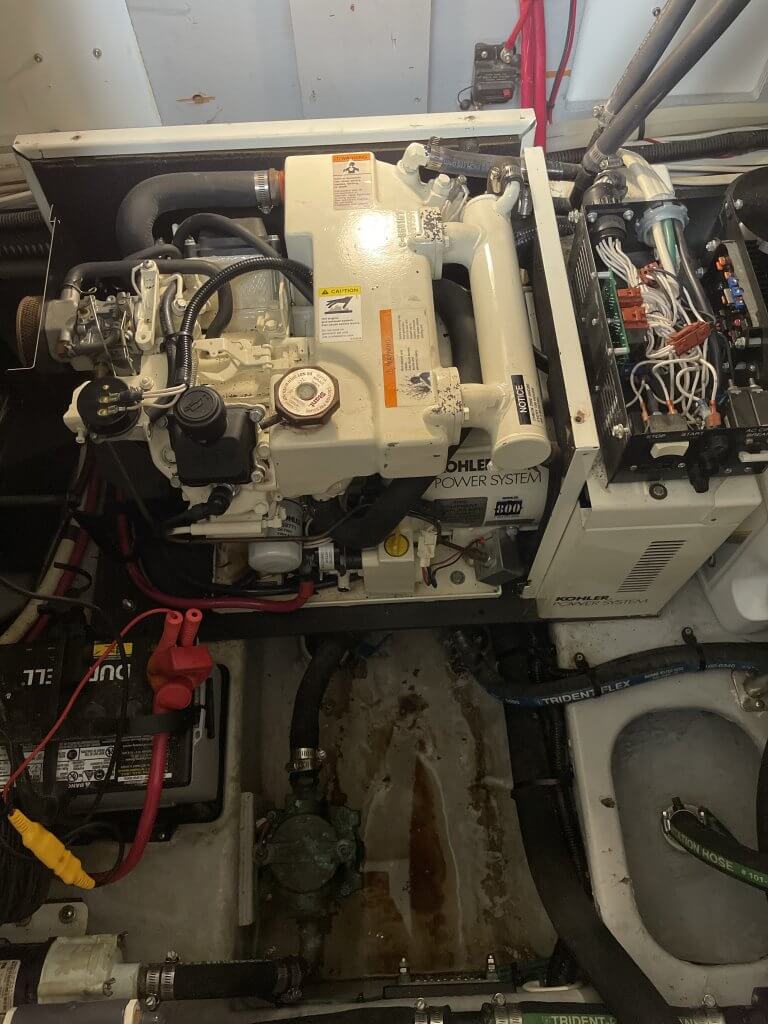 So the person who did the maintenance on the engines last is the same person who fixed the generator. The apparent cause is Teflon tape stuck in the main jet of the carburetor. We later determine that this is not the entire problem! They would have replaced the choke!